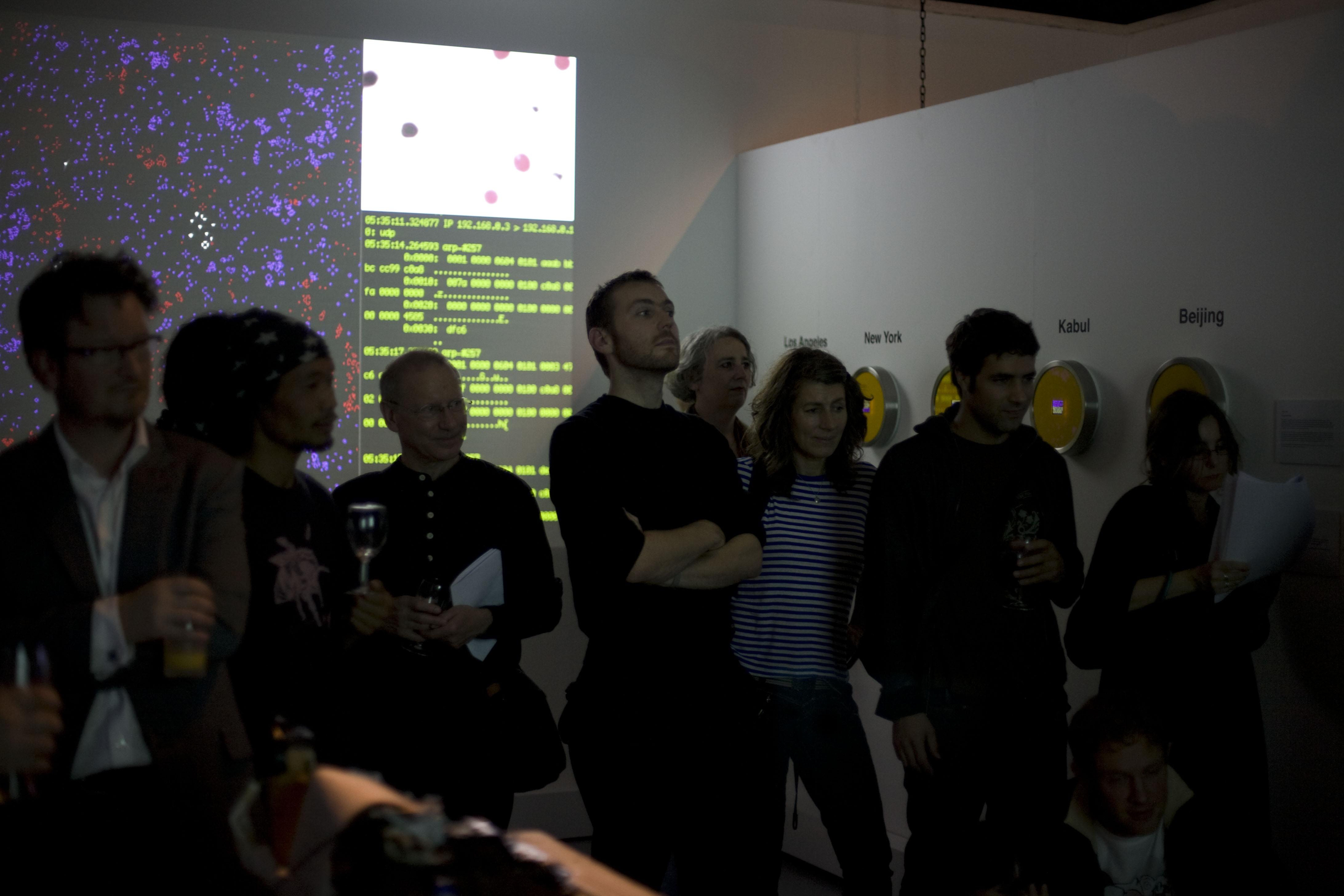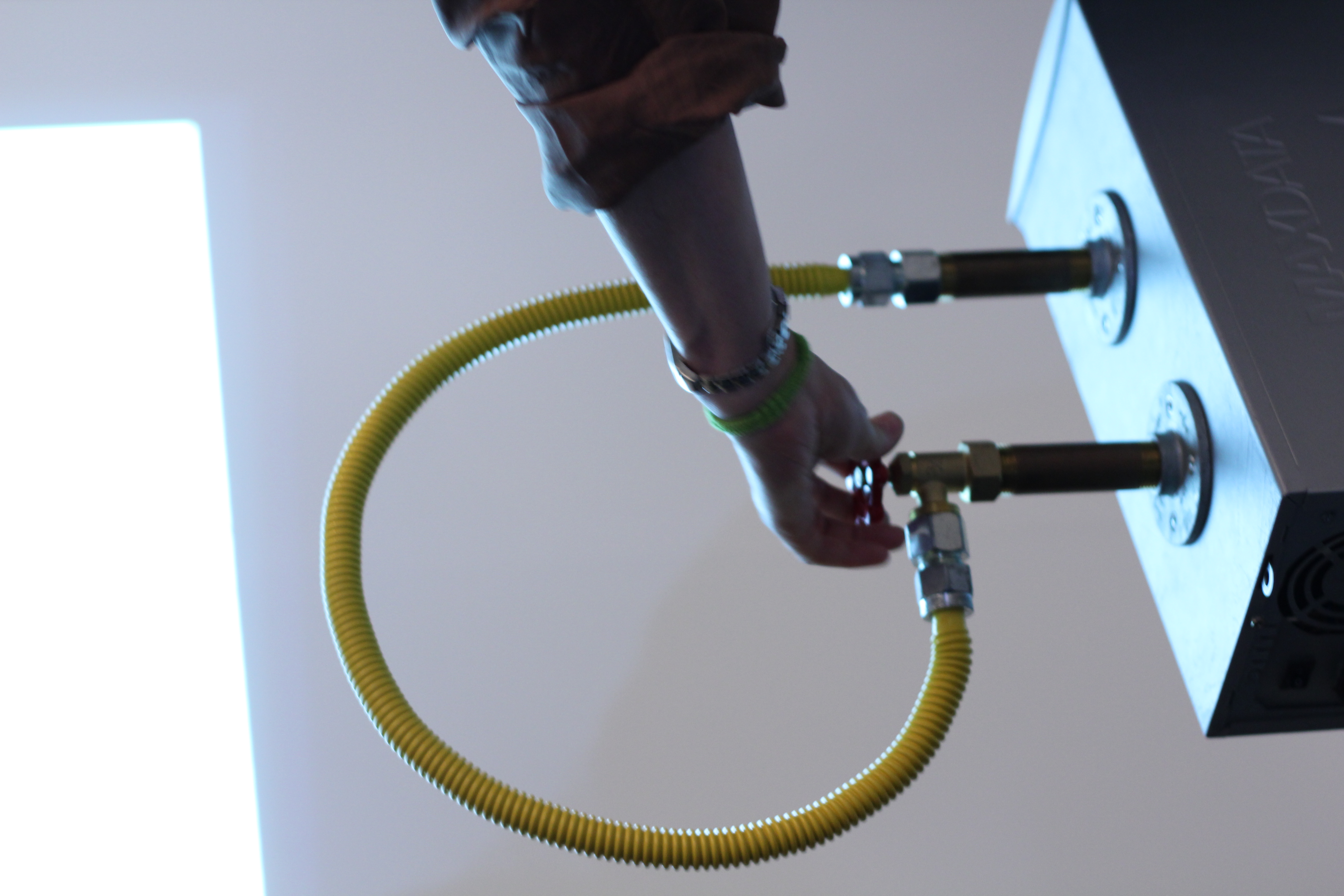 TINT was a project I founded and directed between 2009 and 2013 with Gareth Goodison.

A UK based interdisciplinary media arts organisation which was dedicated to art which derived from, and reflects upon the intersections of technology and culture. As an artist run organisation our core intentions where concerned with the support of artistic collaboration, acting as a point of juncture for artists working within the fields of science and technology. We assisted in pursuing and establishing collaborations with scientists, theorists, artists and other practitioners. Our program of exhibitions and events supported an experimentation of media and interactive arts, encouraging audiences to participate, explore and create.

Events

Unleashed
Apiary Studios, London – 25th – 26th of June 2011
Organised by Vincent Van Uffelen
A weekend of collaborative co-exploration of long known or newly to be discovered aspects of media art. Unleashed which was held at Apiary Studios in East London provided the opportunity for artists to host or participate on a range of artistic research projects. To kick start new or refine existing ideas, meet other interested parties, and engage in valuable exchange of knowledge, critique, and experiences.

Mixing the City – David Strang & Andy Prior
Participants in the workshop are invited to create content for use in the bespoke Quicktime WebJay (QTWJ) environment, using field recording techniques and video capture within the surrounding area. You will explore a range of field recording techniques and abstract video capture, using various sonic arts and video arts methods, to create A/V rhythms which are then manipulated/controlled within QTWJ. The recorded material will be added to a database and will continue to be used by any QTWJ workshops/users in the future. This content will then be used by the participants within QTWJ to create a live performance of sound and visuals at the end of the day.
http://www.davidstrang.co.uk, http://x2.i-dat.org/~ap/2010PhD

Computational Crystallomancy – Stephen Fortune
This workshop brings the occult methods of crystal gazing into proximity with the DIY entry point to ubiquitous computing. This workshop will combine the arduino and psychological experiments for discerning trance states. The arduino is the amateur-enthusiast avenue into sensor aware environments. Those psychological experiments used bodily traces to determine the subjects inner state of mind. Both will be combined to see what data sampling all elements of the crystallomancy circuit can tell us about the computational modelling of reality that ubiquitous computing entails.
This project is at it's conceptual inception and is looking for people who are interested in how reality can be made sensible to computers and those who would have an interest is seeing how intuitive practices like crystal gazing reconcile with the rational & cognitive disposition of computational culture. Introductory arduino (input feeds) and processing data feeds will be explored.

http://thereisnowetware.wordpress.com/
Bodies in Communication – Deep Media Research
Deep Media Research develops simple prototypes to explore the vast field of infra-verbal bodily communication. In our workshop we will explore how we can use sensors to measure signals of our body and actuators to make those signals perceivable by others. We'll make use of simple electronics, the Arduino microcontroller, and some code and are looking for beginners and intermediates who want to be introduced into body sensing (galvanic skin response, pulse, …), experiment with actuators and/or help to develop the project further.
http://deepmediaresearch.org

Optical Sound – Dominick Allen
Optical Sound will be a practical, hands on workshop building and exploring optical microphones (devices that turn fluctuations in light into sound) for use in field recordings, performances etc. Everybody attending the workshop will have the chance to build their own optical microphone which they can take away with them for a small donation. The workshop will be followed by an audio-visual performance to explore the possibilities of these microphones. Everybody is welcome and no previous experience of electronics is necessary

Performing Screen – Madi Boyd
This project in progress is to create a robotic puppet like screen which will interact with the film projected onto it in order to create an intense dialogue. The screen will be composed, eventually, of hundreds of small independently moving parts. The parts will be controlled by servos so that they move in all directions in an organic but choreographed formation. They will appear to react to and be sculpted by the film. This performative dialogue between the projection and the screen will extend into a tussle in their attempts to shape each other, creating a new dynamic form in the process.
This project is at the concept/experimental stage and invite interested artist and technicians to partake researching several aspects needed to complete this work. These include: materials which will be able to move effectively, materials which reflect and absorb light in varying amounts, programming/controlling up to 80+ servo motors.
http://www.madiboyd.com

Unleashed Devices
(Watermans, 40 High St, Brentford London – 1st September – 22nd October 2010)
Tine Bech, Hellicar & Lewis, Patrick Tresset & Nanda Khaorapapong, Daniel Soltis, John Nussey, Matthew Applegate/ Pixelh8, Alex Zivanovic, Neil Mendoza & Anthony Goh, Communications, Ryan Jordan, Genetic Moo, Wajid Yaseen, Eduard Prats Molner & Marijana Mitrovic, Owl Project, sketchPatch, Mary Thompson, Peter Forde, Evan Raskob, Owen Bowden, Tom Schofield, Dave Griffiths, Stuart Dunbar, Anna Dumitriu, Megan Smith, Vincent Van Uffelen & Olga Panades, Andy Deck, Jordan Tate & Adam Tindale, Andrew Back, Thessia Machado, Daniel Ploeger

Unleashed Devices is an exhibition of DIY, hacking and open source projects by artists who explore technologies critically and creatively. By reconstructing, remixing and reinventing everyday electronic devices, these take on a new life as they shift our vision of the use of data and purpose of technology. Playing with frontiers, such projects not only challenge our conception of technology but also music, art and design. Here, they reveal the power of DIY modes as tools to stimulate social reflection and participation. Unleashed Devices was co-curated with Irini Papadimitriou, Head of New Media Arts Development at Watermans.

Tint Arts Lab
Online – http://lab.tintarts.org August – September 2010
TINT opened its Arts Lab to provide a platform for artists to present and develop ideas through critical feedback and open discourse. Based on a framework of constructive critique and knowledgeable support, participating artists are invited to explore their work within the boundaries of media art. While we appreciate the final results of the artists endeavours, we also value an exposure of the conceptional and developmental phase. We consider that the documentation of these usually opaque processes allows ongoing meaningful feedback and is an important part of artistic practice. Through unveiling the modes and theories involved we aim to foster collaboration and knowledge exchange between practitioners, thereby adding to the continuous exploration of media arts.

The Arts Lab invites several artists or artists groups to participate in parallel at its online residency program, we ask that they document thoroughly all its stages from conceptional to realisation in a dedicated blog. While the Arts Lab sets its focus on an online representation to enable and document a continuous feedback on the projects all residencies will be jointly presented in a TINT curated event in a London based venue.
After invitation the residents are required to document their project in at least four stages (see diagram). The artist will detail their project proposal in an initial documentation to a dedicated team of artists, theorist and practitioners as well as the community to respond to the project. By being engaged in a critical dialogue the residents will be supported throughout the development of a final project concept. This concept will be documented in a further posting and as in all other stages commented on by the supporting team and the community. Once the concept has been defined the artists will begin to realise their projects, share their experiences with the community, and be able to receive practical support through the community. A final entry will present the finished project with text, images or video to all interested parties. All resident's contributions will be permanently made available and therefore be vital part of th Arts Lab's investigation into media arts.

TINT at Open Source @ Techvill
(Brixton Village / Granville Arcade, Coldharbour Lane, London – 24th April 2010)
Genetic Moo, Vincent Van Uffelen, Owen Bowden, Stuart Dunbar
On Saturday 24th April TINT was pleased to presenting a selection of artists in a one day event at Brixton Village Market. The event is organised by Spacemakers also featured other arts groups exploring media arts, computational arts, coding and hacking. The Spacemakers Agency is about rethinking the spaces in which we spend our time, They have taken over 20 empty shops in a 1930's arcade market in Brixton and created a rolling festival of pop-up performances and exhibitions, new shops, cafes and weekend events.

TINT at Kinetica Art Fair 2010
(P3, University of Westminster, 35 Marylebone Road, London – 4th – 7th February 2010)
Parag K Mital, Agelos Papadakis, Dave Murray-Rust, Owen Green
For the Kinetica Art Fair 2010 we presented two collobrative art projects involving four artists living and working in Edinburgh, Scotland. Kinetica Art Fair is the only Art Fair in the UK dedicated to kinetica, electronic and new media art, focusing on universal concepts and evolutionary processes. By pushing boundaries across many different disciplines, the fair represents a new and experimental form of art.

Media Art. A 3-Dimensional Perspective
(Add-Art, Online, Worldwide – 16th – 23rd January 2010)
Mike Blow, Madi Boyd, Matthew Curtis, The Egg Group, Jamie Elliott, Winnie Soon, Parag K Mital and Agelos Papadakis, Yan Seznec.
Image as a documentation of a 3-Dimensional form is limited to the boundaries of a frame. It allows us to capture an object and to archive a moment in time, but how we perceive the areas outside the extremities of the 2-dimensional image is dependent upon our interpretations. Unable to see all the viewpoints of an object or setting within this space, our minds create a logical impression of how it would appear were we to be placed at the instance of the image.

Old Spitalfields Market
(Old Spitalfields Market, Bishopsgate, London – 29th September 2009)
captincaptin, Stuart Dunbar, Vincent Van Uffelen, Tanja Vujinovic, Tobias Revell.
captincaptin showcased several artists work when Kinetica returned to the Old Spitalfields Market with several artists taking over market stalls to display their work through presentations and performances. Marking the end of the London Design Festival, Kinetica presents the work of groundbreaking Cybersonica artists including a fusion of woodwork and electronics from the Owl Project, audiovisuals from Daniel Jones, and a demonstration of the Monome interface by Matthew Davidson. Organised by Kinetica Museum, TINT's inclusion in the event was curated by captincaptin.

Virtually Real: TINT at i-Design 09
(University of Westminster, 309 Regent Street, London – 24th September 2009)
captincaptin, Stuart Dunbar, David Strang and Vincent Van Uffelen, Tanja Vujinovic.
An essential one day conference and showcase for anyone with an interest or passion for interactive design and the digital arts. The programme aimed to inspire, entertain and explore how our digital future looks set to unfold and the central role interactive design will take in our cultural, work and social life. captincaptin was pleased to present four artworks by six artists alongside Kinetica museum and Cybersonica. Virtually Real was organised by Cybersonica with captincaptin curating TINT's inclusion in the exhibtion.

Passing Through
(James Taylor Gallery, Hackney, London – 14th – 24th May 2009)
Artists: Bulbcollective, captincaptin, Matthew Curtis, Stuart Dunbar, Jamie Elliott, Peter Forde, Jon Garlick, Richard Kendrick, Lottolab Studios, Parag Mital, Agelos Papadakis & Dave Murray-Rust, Artemis Papageorgiou, Tobias Revell, David Strang, Jamie Thompson.
The progression of Interactive art is not a recent phenomenon, originally explored in the 1960's; it's visibility in the art world has often been shrouded, seen as a fad created by artists whose principal concern is in producing works of technical trickery, rather than artworks that pursue an intellectual and referential meaning. However, in society and indeed culture we are forever forging stronger relationships with technology. Human-Computer Interaction (HCI), GPS, iPhones and the Internet are all examples of the daily influences of digital media. This interaction has and is continuing to shape the way we live, how we perceive our environment, the way we communicate with each other, and importantly how we view our relationship with art. Passing Through explores the movement of the spectator turned interactor on a personal journey, engaging in direct conversation with the artworks in order to realise and complete the work that would not exist without his/her actions.